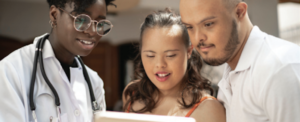 With the recent increase in COVID-19 cases and the surge of the Delta variant, the CDC has released informational toolkits to provide steps to protect yourself and others from the virus. These toolkits have been designed to support people with intellectual and developmental disabilities. These resources are available in English and Spanish.
To read more about the toolkits visit the Disability Scoop for an article focused on the CDC's toolkits.
The CDC's release includes social stories for receiving the COVID-19 shot, social distancing, and how to wear a mask. You can also find a caregiver tip sheet and a provider's tip sheet.
The CDC Materials for People with Intellectual and Developmental Disabilities