My Life

Plan
a secure online tool for planning and envisioning life at every age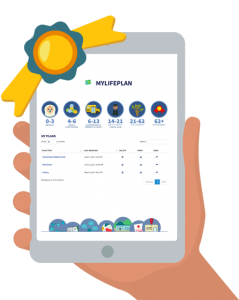 My Life Plan puts the individual at the center of life decisions every step of the way, helping you navigate planning with age-specific questions designed with input from families and professionals who understand what it takes to prepare for each stage of life.
Created by the Washington State DD Council and The Arc Washington State, this free online planning tool helps individuals and their families:
document strengths, abilities, activities and current supports; and,
create goals and strategies to meet those goals in every area of life.

Create and revise plans as often as you like, and send them to all the important people in your life.
All age groups are organized by the same seven categories across the lifecourse:
Home Living
Community Living
Lifelong Learning
Social Activities
Education/Employment/ Retirement
Health & Safety
Protection & Advocacy
Share your family member's goals and vision with those who play an important role in their life, such as:
DDA Case Resource Manager, to help prepare for their annual service planning meeting.
IEP Team, in advance of a meeting, so that you and your child's vision is included in the draft IEP.
Service Providers, to give them a clearer picture of your family member's interests, strengths, abilities and needs.
My Life Plan helps individuals and families think about goals and support needs at home, school, work, and in the community. It's a great conversation starter for young adults and anyone preparing for a new stage in life.