Planning and creating a life that's meaningful to you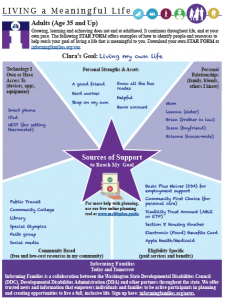 Growing, learning and achieving does not end at adulthood. It continues throughout life, and at your own pace. This four-page Life Course issue, Living a Meaningful Life, includes:
A star form to help identify supports needed to reach goals in middle adulthood.
Tips for parents to pursue a vision that builds on the individual's strengths, interests, and abilities.
Questions to consider when thinking about living outside the family home and where to get answers on affordable housing, services, living skills, and finances.
Assistive technology resources.
Support and planning resources for the whole family.
Get Your Copy
DOWNLOAD (PDF)
Living a Meaningful Life (for Adults Age 35 and older).
PRINT
For organizations, agencies and others needing more than one or two copies, order printed copies below.