Click here to order printed folders, listing the following resources.
HEALTHY LIVING
APPLE HEALTH AND APPLE HEALTH FOR KIDS
Health care for individuals with low income (formerly known as Medicaid).
Toll-Free: 800-562-3022
WA HEALTHPLANFINDER
Find, compare and enroll in health insurance.
WA PRESCRIPTION DRUG DISCOUNT CARD
Free to anyone who lacks prescription drug coverage.
Toll-Free 800-913-4146
AUTISM CENTERS
University of Washington
Evaluation, treatment, training, and research.
Seattle 206-221-6806 Tacoma 253-692-4721
NW Autism Center (Spokane)
Information and referral.
1-509-328-1582
Seattle Children's Autism Center
Assessment, diagnosis, treatment and support.
1-206-987-8080
UW CENTER ON HUMAN DEVELOPMENT & DISABILITY (CHDD)
A range of on-site clinical service programs that serve primarily children, with or at risk for developmental, learning, and behavioral problems.
UW DENTAL EDUCATION IN CARE OF PERSONS WITH DISABILITIES (DECOD)
A program of the School of Dentistry that treats persons with severe disabilities.
1-206-543-4619
DIRECTORY OF DENTISTS FOR CHILDREN WITH DEVELOPMENTAL OR SPECIAL NEEDS
A partial listing of dentists who treat patients with mild and/or moderate-severe developmental and acquired special needs.
DIVISION OF BEHAVIORAL HEALTH & RECOVERY 
Beginning in 2016, the state began purchasing behavioral health services through regionally operated Behavioral Health Organizations – BHOs through a managed-care structure to administer community mental health programs for Medicaid-eligible persons.
Family to Family Health Information Center
Family to Family helps families of children and youth with special health care needs (CYSHCN) and the professionals who serve them identify sources that may be of use when looking for healthcare funding. Visit wapave.org  or call 800-572-7368 ext. 108.
SEATTLE CHILDREN'S HOSPITAL
Clinics and programs throughout Western WA, a well as Tri-Cities and Wenatchee.
TOLL-FREE: 1-866-987-2000
WITHINREACH
WithinReach helps families across Washington State navigate complex health and social service systems and connect with the resources – food assistance, health insurance, childhood screenings and more – they need to be healthy and safe. Call the Help Me Grow Washington Hotline at 1-800-322-2588 or visit www.parenthelp123.org to get connected.
BASIC FOOD
Monthly benefits to help low-income individuals and families buy food.
HEALTH CARE TOOLKITS FOR MEDICAL PROFESSIONALS, INDIVIDUALS AND FAMILIES
Be an active participant in your health by making sure that your health care providers have the information they need to ensure the best treatment for your specific needs and condition. The following free toolkits include handouts, worksheets, and information to help everyone be better informed and involved.
LEGAL ADVOCACY & SERVICES
DISABILITY RIGHTS WASHINGTON
Legal services for disability rights violations, general information about legal rights, community education and training.
TOLL-FREE: 1-800-562-2702
NW JUSTICE PROJECT
Civil legal assistance and representation to low-income people in situations affecting basic human needs, such as family safety and security, housing preservation, protection of income, access to health care, education and other basic needs.
Inside King County: 2-1-1
Outside King County: 1-888-201-1012
WASHINGTON LAWHELP
Provides information about legal issues and where to find legal help for low-income individuals.
END HARM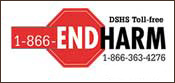 If you suspect that a child or vulnerable adult is being abused or neglected, call 866-363-4276. The operator will connect you with the right DSHS office to make your report. If you are calling about an immediate life-threatening emergency, call 911.
COMMUNITY LIVING
HOUSING & URBAN DEVELOPMENT (HUD)
Rental assistance to low-income individuals. Contact your local Public Housing Authority to apply for a Section 8 Housing Voucher.
HOMECHOICE PROGRAM
Down payment assistance for low-to-moderate income individuals with disabilities (or families which include individuals with disabilities) seeking to own a home.
LOW INCOME ENERGY ASSISTANCE PROGRAM
Helps families keep their heat on, especially those that are most vulnerable, such as the elderly, the disabled, and young children.
DAILY LIFE
DEVELOPMENTAL DISABILITIES ADMINISTRATION
Home and community-based services for children and adults with developmental disabilities, including Personal Care, Employment/Day, Supported Living, Therapies and Respite. Waiting lists may exist for some services, depending on available funding.
DEPARTMENT OF SERVICES FOR THE BLIND (DSB)
Serves children, youth and adults who are blind or have low vision.
TOLL-FREE: 1-800-552-7103
OFFICE OF THE DEAF & HARD OF HEARING (ODHH)
Services for persons who are deaf, hard of hearing, deaf-blind, or hearing with a speech disability.
TOLL-FREE: 1-800-422-7930
DIVISION OF VOCATIONAL REHABILITATION (DVR)
Short-term services to help adults with disabilities prepare for and secure stable employment, as well as transition to long-term employment support outside DVR.
TOLL-FREE: 1-800-637-5627
INDEPENDENT LIVING CENTERS
Non-residential, private, non-profit, consumer-controlled, community-based organizations providing services and advocacy by and for persons with all types of disabilities.
SUPPLEMENTAL SECURITY INCOME (SSI)
A cash benefit program to help with daily living expenses (food, shelter, clothing).
TOLL-FREE: 1-800-772-1213 | (TTY) 1-800-325-0778
NORTHWEST ACCESS FUND
Low interest loans for any type of assistive technology device or service, as well as vehicle and home modifications.
TOLL-FREE: 1-877-428-5116 | (TTY) 1-888-494-4778
WASHINGTON ASSISTIVE TECHNOLOGY ACT PROGRAM (WATAP)
Resources and expertise to obtain the technology and related services needed for employment, education and independent living.
TOLL-FREE: 1-800-214-8731
EARLY LEARNING & EDUCATION
EARLY SUPPORT FOR INFANTS & TODDLERS (ESIT)
Located within the Department of Early Learning (DEL), the ESIT program provides services to children birth to age 3 who have disabilities or developmental delays.
EARLY CHILDHOOD EDUCATION & ASSISTANCE PROGRAM (ECAP) AND HEAD START
Comprehensive preschool programs that provide free services and support to help ensure all Washington children enter kindergarten ready to succeed.
OFFICE OF THE EDUCATION OMBUDS
Resolves complaints, disputes, and problems between families and Washington State elementary and secondary public schools in all areas that affect student learning. governor.
TOLL-FREE: 1-866-297-2597
SPECIAL EDUCATION TECHNOLOGY CENTER
Assists with the special technology needs of special education students.
WASHINGTON PAVE
Workshops, resources and referral regarding special education.
TOLL-FREE: 1-800-572-7368 (1-800-5-PARENT)
ADVOCACY & FAMILY SUPPORT
INFORMING FAMILIES
Up-to-date information about issues, services and supports for individuals with developmental disabilities & their families. Features articles by parents, siblings & individuals, an extensive video library, news bulletins, and social media information sharing. A project of the WA State Developmental Disabilities Council.
PARENT TO PARENT (P2P)
Helping Parents (matching parents in one-to-one relationships with trained, experienced parents, based on similar diagnoses and family issues), information & referral, workshops, trainings, support. Local chapters
throughout the state.
TOLL-FREE: 1-800-821-5927
PARENT COALITIONS
14 coalitions throughout the state assist parents, family members, and guardians to advocate for their family members and others who have developmental disabilities.
WA STATE FATHER'S NETWORK
Support for fathers and families of children with special needs. Chapters throughout the state.
1-425-653-4286
THE ARC OF WASHINGTON STATE
Advocates for quality services and necessary funding to meet the needs of people with intellectual and developmental disabilities and their families. Local chapters provide support, information and referral.
TOLL-FREE: 888-754-8798
PEOPLE FIRST OF WASHINGTON
Statewide self-advocacy organization run by and for individuals with developmental and other disabilities.
TOLL-FREE: 1-800-758-1123
SELF ADVOCATES IN LEADERSHIP (SAIL)
A coalition of people with developmental disabilities shaping public policy.
TOLL-FREE:1-888-754-8798, ext. 102
AUTISTIC SELF ADVOCACY NETWORK (ASAN)
Disability rights organization run by and for autistic adults.
AUTISM SOCIETY OF WA STATE
Information and referral to families.
TOLL-FREE: 1-888-279-4968
FEAT OF WA (FAMILIES FOR EFFECTIVE TREATMENT OF AUTISM)
Information and referral.
1-425-223-5126
WA AUTISM ALLIANCE AND ADVOCACY
Advocating for improved access to
healthcare, education & social services
through the lifespan.
BRAIN INJURY ALLIANCE OF WASHINGTON
Information and referral.
TOLL-FREE: 1-877-982-4292 | RESOURCE LINE: 1-877-824-1766
DOWN SYNDROME COMMUNITY
Support and information for individuals with
Down syndrome and their families.
EPILEPSY FOUNDATION NORTHWEST
Programs and services for people with
epilepsy in the northwest.
TOLL-FREE: 1-800-752-3509
EASTER SEALS SOCIETY OF WASHINGTON
Training, information, and direct service.
206-281-5700
NAMI WA
Advocacy, information and support for individuals
living with mental illness and their families.
1-206-783-4288
SPECIAL OLYMPICS WASHINGTON
Year-round sports training and athletic competition.
1-206-362-4949
WA STATE HANDS & VOICES
Dedicated to supporting families with children
who are deaf, deaf-blind or hard of hearing.
1-425-268-7087
 GENERAL DISABILITY RESOURCES
COMMUNITY SERVICES OFFICE (CSO)
Connects people to some of the services provided by the Department of Social & Health
Services (DSHS).
TOLL-FREE: 1-877-501-2233
DEVELOPMENTAL DISABILITIES ENDOWMENT TRUST FUND
A special needs (supplemental) trust established in 1999 by the Washington State Legislature as a way for individuals with developmental disabilities and their families to prepare and invest for their future.
TOLL-FREE: 1-888-754-8798, ext. 1
DEPT OF SOCIAL & HEALTH SERVICES (DSHS)
The primary state agency through which social and health programs are administered. Agencies within DSHS include: Developmental Disabilities Administration, Aging and Long-Term Support Administration, Division of Vocational Rehabilitation, Division of Behavioral Health and Recovery, and the Office of Deaf and
Hard of Hearing.
DEPT OF EARLY LEARNING (DEL)
Oversees programs that provide safe and healthy early care and education opportunities for all children. Programs include: Early Support for Infants & Toddlers (ESIT), Early Childhood Education and Assistance Program (ECAP), and Head Start.
TOLL-FREE: 1-866-482-4325
SOCIAL SECURITY ADMINISTRATION (SSA)
Determines eligibility for Supplemental Security Income (SSI) as well as other federal benefit programs for seniors and persons with disabilities.
TOLL-FREE: 1-800-772-1213 | (TTY) 1-800-325-0778
UNIVERSITY CENTER FOR EXCELLENCE IN DEVELOPMENTAL DISABILITIES (UCEDD)
Within the University of Washington Center on Human Development and Disability, UCEDD provides technical assistance, outreach, clinical services, training and information in support of individuals with developmental disabilities.
WASHINGTON STATE DEVELOPMENTAL DISABILITIES COUNCIL (DDC)
Information, policy advocacy, and projects to foster better service provision for children and adults
with developmental disabilities and their families.
TOLL-FREE: 1-800-634-4473
WASHINGTON CONNECTION
Find and apply for a variety of services and assistance online.
WA STATE HEALTH CARE AUTHORITY (HCA)
Oversees the state's Apple Heath (formerly Medicaid) and prescription drug assistance program.