Reykdal Asks Public to Help Develop K-12 Education Budget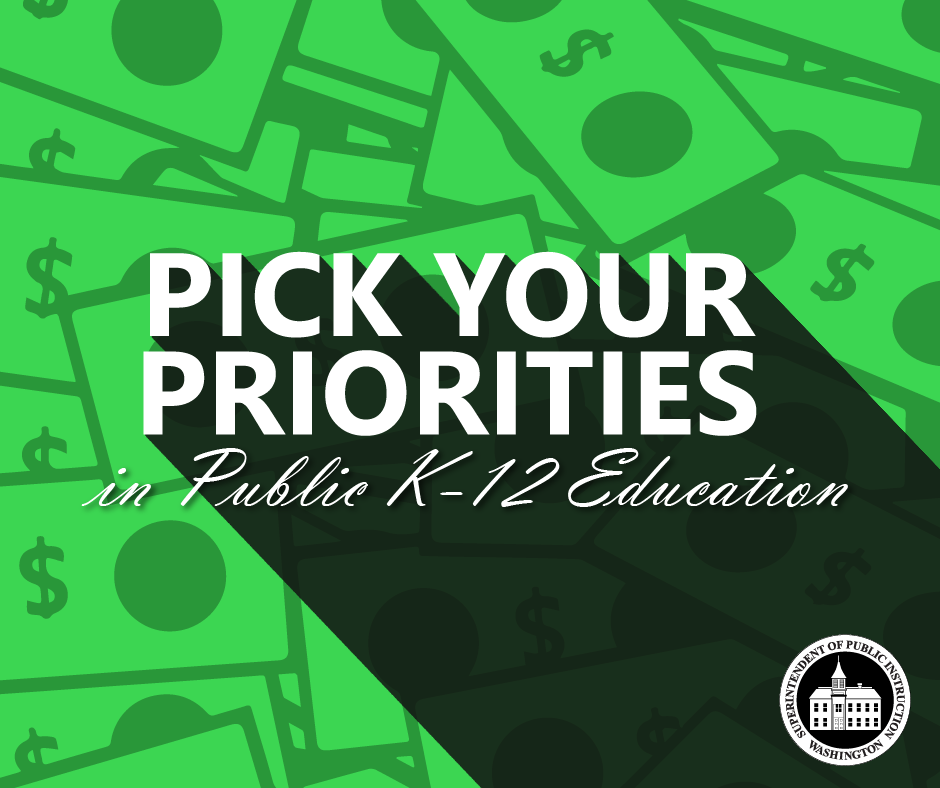 Washingtonians will now have a chance to influence OSPI's budget requests to the governor and legislature.
OLYMPIA — April 25, 2018 — Today, the Office of Superintendent of Public Instruction (OSPI) released a survey that asks the public to determine how important they find additional public K-12 education investments.
"This will be OSPI's first biennial budget request since I took office," said Chris Reykdal, Superintendent of Public Instruction. "It's important to me that it is created with input from educators, families, students, and community members across the state."
"Even as the Legislature has added new resources to shore up 'basic' education, we are still a state that invests less in our schools than the national average," Reykdal continued. "We must do better! Future investments need to increase student achievement, and we want Washingtonians to help shape that future."
The survey asks participants to decide how important they find things like student support services such as counseling and mental health, family engagement and outreach, school safety enhancements, programs that specifically address racial disparities in learning and discipline, and more.
"The Legislature worked hard on solving the McCleary math problem," Reykdal said. "Now it's time to build a budget we can take to Governor Inslee and the Legislature that transforms our system to better reflect the innovations that will be necessary to close opportunity gaps, increase graduation rates, and move more students to post-secondary training and career development."
"It's time to focus on the additional investments that ensure our public schools are among the best in the nation," he continued. "We are in a global competition and it will take additional investments by our Legislature to redesign our system to better support our students and our educators."
The survey will remain open until Friday, June 8 and is available in 10 languages. Reykdal plans to release a second survey in mid-summer that will provide Washingtonians an opportunity to prioritize budget request items that emerge from this survey.