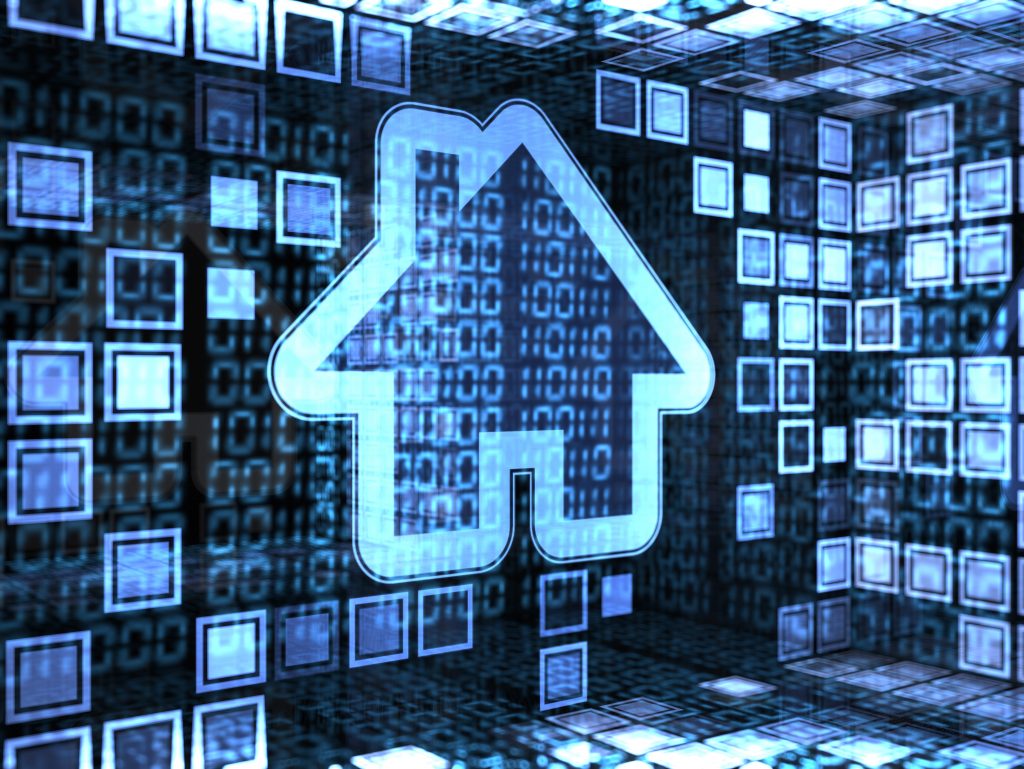 Last year, the DD Council and The Arc of Washington State launched Smart Living, a pilot project to explore ways that technology can assist people with I/DD in their homes. Funded by a grant through DDA's Roads to Community Living, the project sought to identify:
Resources and processes needed to incorporate
technology as part of an individual's support system.
The ability of technology to create greater independence
and choice.
Marsha Threlkeld, the assistive technology expert hired to run the project, used a person-centered approach to assess each individual's needs and preferences, find the best technology to meet their needs, and assist with arranging for installation and training for everyone who uses the devices.
As we reported last year, Threlkeld's initial assessments showed that the technology gap was pointing to an even larger issue: social isolation. "Every person was dealing with isolation across the board. They weren't getting out and didn't have the ability to be in touch with others and the world."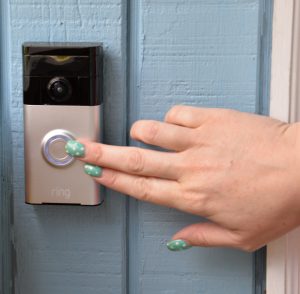 The project eventually focused its efforts on the home of four women supported by Kokua Residential Services in Olympia. Over the past several months, the house has been outfitted with devices, apps and equipment to assist with:
Safety (Ring video doorbell and Nest Protect Smoke and Carbon Monoxide Alarm)
Communication (Go Talk 20, iPad, large button phone)
Comfort/Stress Reduction (Gameyly Supersoft Chicken, Speck iPad holder)
Accessibility (remote control door opener, wireless headset, touch free faucet, Echo Dot)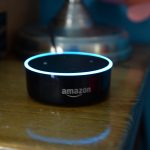 One standout device is the Echo Dot, a voice-operated unit the size of a hockey puck that communicates with household equipment, like the lamp in one of the bedrooms. A simple voice command to Echo is all it takes to turn on the light. (Note: Because the pre-programmed name (Alexa) was difficult to pronounce, they changed it to Echo.)
Echo also answers questions posed to her about random topics, even when she's not asked. Erin Manemann, lead staff for Kokua, jokes about Echo's tendency to insert herself into conversations that have nothing to do with her. "I was asking someone a question one day and Echo started answering. We were all like, wait…who's that?"
Independence and Choice
"Julie's" bluetooth headset, another voice command device, gives her control over her computer without keeping her tethered to one spot.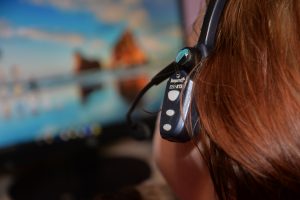 Prior to getting the wireless unit, if she wanted to stop and do something else, she would have to call out for staff and wait for them to unplug her. Soon, she will have a voice operated door opener (Private-Door Solo) that will connect to Echo, giving her privacy and control of when she comes and goes from her room.
Julie also received an iPad, which she uses to connect with friends and family through Skype and Facebook.
Although there are some issues with the voice software used with the headset that need to be ironed out, these four devices—Echo, iPad, door opener and headset—promise Julie greater autonomy, choice, and connection to other people.
Smart Technology Installed
Echo Dot
Ring (WiFi enabled video doorbell)
Wireless portable intercom
Nest Protect Smoke & Carbon Monoxide Alarm
Touch free hand sensor faucet
iDevices (wifi enabled plugs)
Speck iGuy, (iPad case)
Go Talk 20 (AAC device)
Bluetooth headset
Wireless keyboard
iPad Pro and regular sized iPad
Big Button universal remote
Private-Door Solo
Apple TV
Gameyly Bluetooth Supersoft Chicken
Lessons Learned
As Threlkeld writes in her preliminary report, "Equipment must be introduced a little at a time or it is overwhelming for the staff and program who are very busy with day to day needs and routines." Having an in-house go-to person, she points out, is essential.
Equipment must be introduced a little at a time or it is overwhelming for the staff and program who are very busy with day to day needs and routines.
Threlkeld set up some of the equipment herself, as well as working jointly with Manemann. But other equipment, such as modifying the door opener to function with voice command, requires outside help from a technician.
Threlkeld also met with a member of the Amazon Smart Home Consultants team, which offers in-home consultation and follow along in the extended Seattle area.
It's too early yet to know the full impact. "Some of the work is trial and error," Threlkeld observes, "as some equipment works much better for people than ever anticipated and some equipment does not hold all the possibilities originally envisioned. People's involvement with it is evolving."