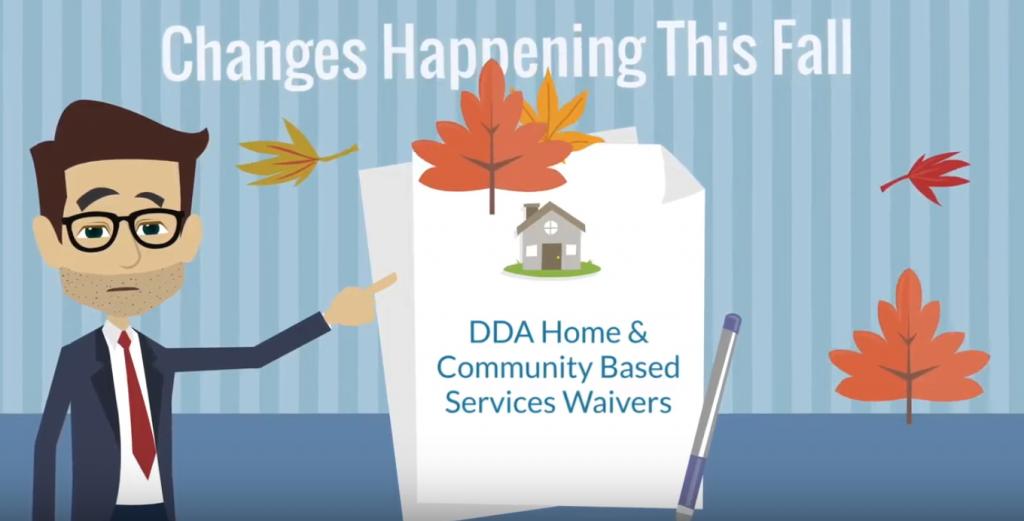 Changes to the Developmental Disabilities Administration's Home and Community Based Services waivers have just been approved by the Centers for Medicare and Medicaid Services (CMS). The changes impact all five waivers:
Individual and Family Services (IFS)
Basic Plus
Core
Community Protection
Children's Intensive In-Home Behavioral Support (CIIBS)
Why is this Happening?
These changes (known as "amendments") comply with federal requirements that don't allow the same service to be provided under a waiver if it's also provided through another Medicaid program (such as Apple Health or Community First Choice).
Highlights of What to Expect
Some new services will be added.
Some will be renamed or redefined.
Some will be removed.
New services include:
Specialized Habilitation. These are supports for individuals to learn or maintain skills in self-empowerment, safety awareness and self-advocacy, effective communication, coping strategies, managing daily tasks and acquiring adaptive skills. [IFS, Basic Plus, Core and CIIBS]
Complementary Therapies, which include music therapy and equine therapy [CIIBS];
Therapeutic Adaptations. Unlike environmental adaptations, which are for accessibility, therapeutic adaptations are for more sensory-related modifications. For example: creating a sensory room or space with white noise, soft flooring, therapeutic lighting, etc. [IFS, Basic Plus, and CIIBS]
Renamed and redefined services include:
Community Engagement will replace Community Guide. [Basic Plus, Core, plus IFS where it stays the same.]
Stabilization Services will replace Behavioral Health Stabilization Services for short term crises. [All waivers]
Removed services include:
Specialized Psychiatric Services, which is available through Apple Health.
Skilled Nursing (except nurse delegation) for youth age 20 and younger who can be covered for this service through Early Periodic Screening and Diagnosis, or EPSDT for short.
Personal Care from Basic Plus waiver, which is available through Community First Choice
Behavioral Health Stabilization Services: Positive Behavior Support and Specialized Psychiatric Services (except diversion beds), which will be available through Specialized Habilitation & Staff/Family consultation as part of the newly named Stabilization Services offered under all waivers. These are short term crisis services.
Positive Behavior Support and Consultation for adults age 21 and older on the IFS, Basic Plus and Core waiver, which are available through Apple Health and waiver Specialized Habilitation as ongoing services. Youth age 20 and younger currently receiving positive behavior support will continue to have access to this service.
Transition Process
Everyone who is currently receiving services that are proposed to be removed or phased out will be transitioned to other Medicaid services during a transition process. The transition process from Specialized Habilitation will occur at your next scheduled annual assessment, after October 1, 2020. Other services being removed will end on October 1st, 2020.
All of these changes are meant to comply with federal requirements, while also ensuring a respectful, person-centered approach that seeks to reduce social, cultural and environmental barriers to living a full life.
Again, these are just some of the highlights. For a full list of changes, read DDA's letter to Stakeholders. To find out how changes may affect you, please talk to your DDA case resource manager.
Watch our video for all the highlights: