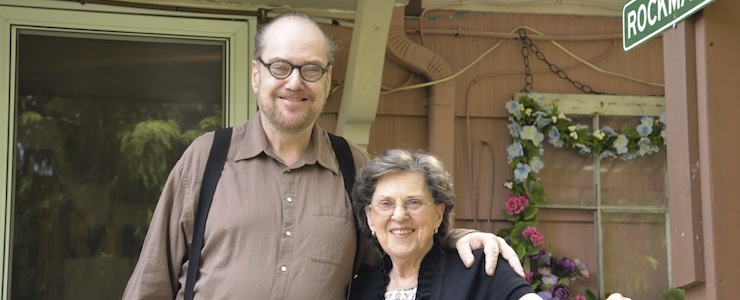 Growing and thriving through middle adult years and beyond is just as important as planning for earlier life transitions. Use the checklist below to help identify next steps and key resources. [Click here for a printable version to fill out and use for any type of planning.]
Person-Centered Planning
Create a vision for where you want to live and what you want your life to look like in the next five years or more.
Complete My Life Plan for help to identify goals and support needs in every area of
life. Visit mylifeplan.guide to get started.
Include your strengths, interests, skills and preferences in all planning. Get ideas for future planning at futureplanning.thearc.org.
Financial/Legal
Apply for financial benefits, ID, trust/savings/checking accounts:
Washington State ID
Social Security Benefits
Birth certificate
Bank Account
Special needs trust and/or ABLE Savings Account
Identify supported decision-making options or guardianship (if needed):
Representative payee
Power of attorney
Informed consent
Learn more about supported decision making and guardianship.
Connecting & Learning
Maintain connections with friends, family, faith groups,and other important relationships.
Enroll in community classes and activities for learning and fun.
Particpate in self advocacy or other peer-run support group.
Community Living
Identify the kinds of support or assistance needed to live as independently as possible:
Help with activities of daily living (e.g., dressing, bathing, hygeine, cooking, shopping,  housekeeping, toileting)
Money management/budgeting
Decision-making
Transportation/Bus Pass
Emergency response
Connecting to community resources and opportunities
Finding and maintaining employment
Other
Identify sources of support:
Siblings/other relatives
Assistive technology
Community resources
Eligibility-based paid services
Other
Apply for Services:
Housing
Assistive Technology
Identify technology that maintains or increases independence, communication and connection:
Smart phone
Tablet/iPad
Smart home technology to control lights, temperature, appliances, doors.
Health & safety apps
Internet/WiFi
Other
DID YOU KNOW?
NW Access Fund offers low interest loans for assistive technology.
Persons enrolled in DDA's Individual & Family Services (IFS) waiver may be eligible for assistive technology evaluations, training and technical assistance (note: internet and WiFi is not a covered service).
Community First Choice (CFC) has an annual allotment to pay for assistive technology devices. Talk to your DDA case manager to learn more.
Health & Safety
Prepare for changes in physical and mental health, including memory loss and dementia.
Establish a baseline of health and cognitive abilities.
Track and document changes in memory or cognition. The Dementia Action Collaborative has resources for individuals and families to help recognize signs of dementia.
Identify new skills or support needed to assist with health,
mobility, cognition, and safety.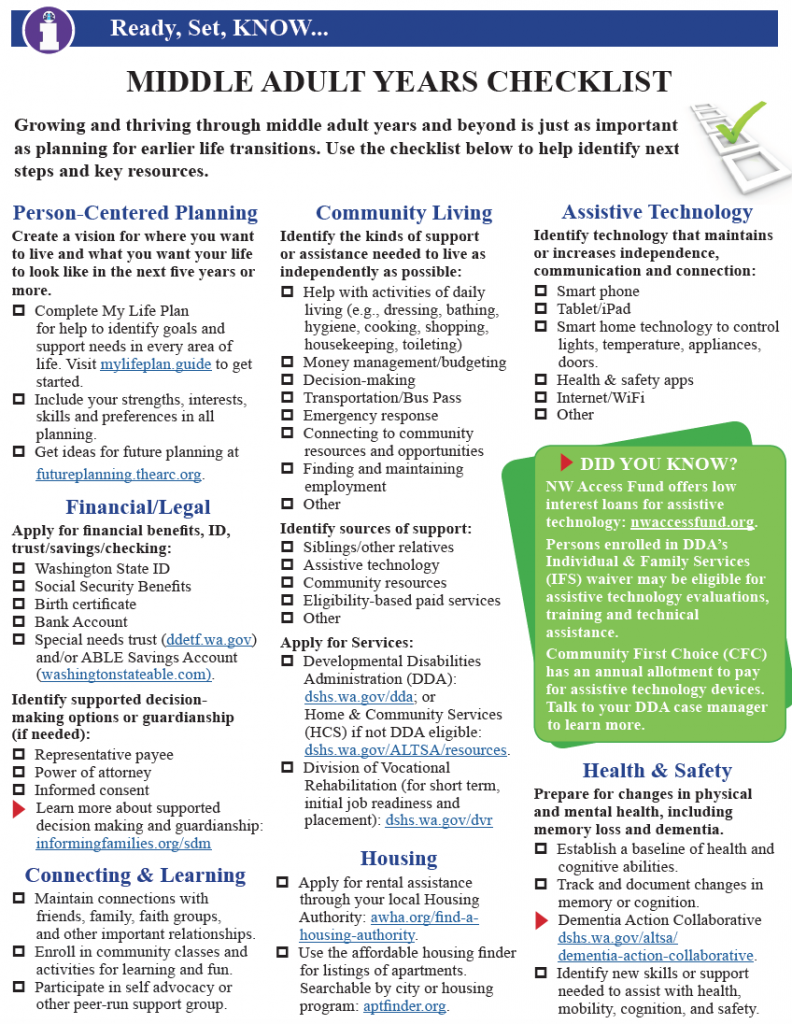 Click here for a printable version (PDF)
Additional Resources
Our free Lifecourse packet, Living a Meaningful Life, includes:
A star form to help identify supports needed to reach goals in middle adulthood.
Tips for parents to pursue a vision that builds on the individual's strengths, interests, and abilities.
Questions to consider when thinking about living outside the family home and where to get answers on affordable housing, services, living skills, and finances.
Assistive technology resources.
Support and planning resources for the whole family.