When an ice storm struck Puget Sound last winter, knocking out power for several days, Emily and Michael Rogers found themselves in the same boat as their neighbors, except for one notable difference: They use motorized wheelchairs. Without power, they faced being stranded.
"Our wheelchair batteries can last for about 3 days," Emily explained. Beyond that, they would be left without food, heat, or a way to get help. "We live just a couple blocks from the supermarket, and I kept thinking it wasn't a problem because we could just wait for it to open. But it was out of power just like we were."
Michael decided to approach their neighbor, Mary, across the street.
"He came over and said they could sure use some warm food," Mary said, explaining that she had a generator.
It turns out Mary had more than that. She had an idea and a strong desire to help the whole neighborhood prepare for future emergencies. Over the next several months, she secured a location, set a date, and organized an evening of emergency preparedness resources, supplies and information. The Emily Project was born.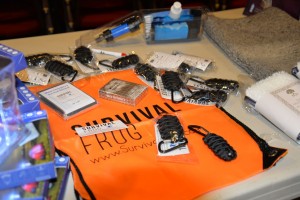 Mary and Emily visited their neighbors and dropped off flyers to the first meeting. Along the way, they discovered that their neighborhood had a lot of natural resources: people with skills and knowledge.
"We found out we have a couple nurses," Emily said. "And a carpenter." They also met some elderly neighbors who could use help in an emergency.
Without any training or guidance, they were doing naturally what Map Your Neighborhood does in a more formal way, which is to connect neighbors with each other and prepare to handle an emergency in the hours (and sometimes, days) before first responders arrive.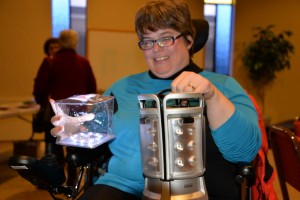 The Emily Project's first gathering boasted a roomful of tables filled with products—everything from water purifiers and dehydrated food to inflatable cube lights and backpacks filled with easy to find and inexpensive survival items. There were a lot of helpful people too, like Wayne and Dawn, who offered tips on how to start a fire with oil from a can of tuna, and how to create a plan to connect with family members separated during a disaster. The local fire department was also there to answer questions and show support.
Michael wasn't able to attend the event, but he has given a lot of thought to what he and Emily need to prepare for. "Everybody needs food, water, heat. It doesn't matter if you have a disability or not. The thing to do is find out what you need that's specific to your disability, beyond the basics." He gave an example of a person who needs help transferring out of a wheelchair. "If someone wants to help that hasn't done it before, tell them not to be a hero. They need to be safe, too. So you have to think about who else can help them and how to do it so no one gets hurt."
As part of their own preparedness plan, Emily called her local fire department to ask about the best kind of smoke detectors to install. While she was on the phone, she let them know that she and her husband use power wheelchairs. The fire department entered their information into the system so that if something happens at their address, an onscreen display will show that they use power wheelchairs. Emily learned there are things that first responders can bring and do to accommodate their needs if they know them ahead of time.
Although preparing for an emergency is not just for people with disabilities, Emily found an extra benefit to planning for her and Michael's safety. "Being prepared is empowering," she said, pointing out all the resources on display. "It feels good to find ways to help yourself."
Resources: Emergency Preparedness for Persons with Disabilities